Diner's Choice Program
To provide a flexible meal schedule for busy individuals who are 60 years of age or older, ENOA's Nutrition Division offers the Diner's Choice program at all the Hy-Vee stores in the Omaha, Papillion, Fremont and Plattsmouth areas. 
The program allows older adults to have a specific menu for breakfast, lunch, dinner, or anything in between, at a time and location that is convenient for them.  The ENOA dietitian evaluates the Diner's Choice menus to ensure they are nutritionally balanced.

For more information please call 402-444-6513 or email Christina @ christina.ochoa@enoa.org.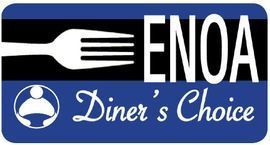 In order to register for Diner's Choice you must watch a short video. Once you are finished, please print out the forms, and mail them to address listed on the participation packet. Thank you for listening to the video.

If you are able, please print the Diner's Choice Participant Program guide to follow along with while watching the video.

Thank you!