Safe, Secure Seniors: Legal Services to Protect Older Nebraskans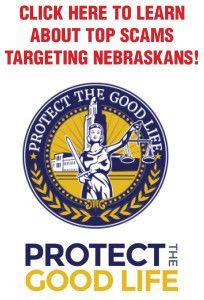 Many Nebraskans are being confronted with the challenges of protecting themselves and their loved ones from the threat of elder abuse, neglect, and exploitation.
For more information call the Nebraska Attorney General's Office listed below or log on to  protectthegoodlife.nebraska.gov/
(402) 471-2682 (local)
(800) 727-6432 (toll-free)
(888) 850-7555 (En Español)
(888) 287-0778 (Senior)
---
Legal Aid of Nebraska
ENOA collaborates with Legal Aid of Nebraska to provide limited legal advice and assistance to Nebraska residents over 60 years of age through their toll free ElderAcessLine®. Phone calls to the ElderAcessLine® are answered by an experienced attorney or paralegal who will ask you questions about your situation.
Legal Aid can help with:
Collections
Medicaid/Medicare
Consumer Protection
Simple Wills
Power of Attorney
Advanced Directives/Living Wills
Homestead Exemptions
Tenant Issues
Other Legal Concerns
Hours of Operation:
Monday - Thursday: 9 am to noon, 1 pm to 3 pm
Friday: 9 am to noon
For more information click here: Legal Aid of Nebraska 
or call 402-827-5656 or 1-800-527-7249.
---
Surrogate Decision Making booklet for Nebraska
This booklet is designed to assist those who work with older adults and people with disabilities in determining what options might be best in situations in which surrogate decision making might be necessary. It covers such topics as payeeships, fiduciaries, advance directives, conservatorship, and guardianship.
Click on this link to download your copy:
Advance Directives
The Why, When and How of Health and Financial Decisions.
Click on this link to download your copy:
The Nebraska-specific Managing Someone Else's Money Guide,
"Help for Representative Payees and VA Fiduciaries"
https://dhhs.ne.gov/Pages/Aging-Legal-Services.aspx.
For more information, contact:
State Unit on Aging
Nebraska Department of Health and Human Services
P.O. Box 95026 Lincoln, Nebraska 68509–5026
800-942–7830 – Nebraska only
402-471–2309
---