ENOA's mission is to promote choice and enhance the well­being and dignity of aging adults, caregivers, adults with disabilities, and those with the greatest economic need so they may live independently.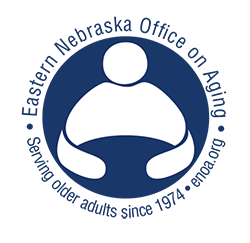 As one of 622 area agencies on aging created by Congress under the Older Americans Act, the Eastern Nebraska Office on Aging serves families in Douglas, Sarpy, Dodge, Cass and Washington counties. ENOA's role is to ensure older adults within its region have access to a continuum of services that enable them to remain active, independent and in their own homes for as long as possible. ENOA serves as a gateway to aging services that already exist in the community and also operates its own programs that fill previously unmet needs in the five-county area.
Through our nutrition programs, care management services, volunteer opportunities and community services, ENOA's goal is to enhance the lives of  older Nebraskans who live within our service area. A further mission of the Eastern Nebraska Office on Aging is to continually assess the needs of older individuals and their families and to adapt our programs to meet changing needs. By creating unique programs that fill gaps in service, ENOA helps older Nebraskans to live more independently, to live with dignity, and to remain for as long as possible in their own homes.
A continuum of care for older adults and support for family members