New Horizons Newspaper
A publication of the Eastern Nebraska Office on Aging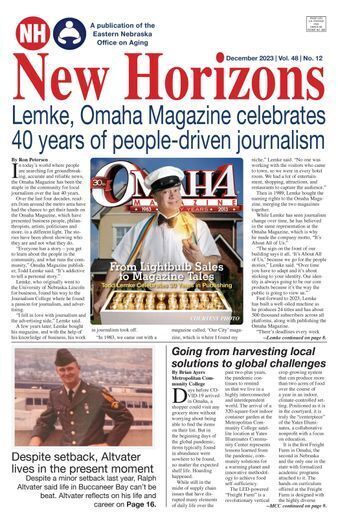 One of the longest-running continually-published community newspapers devoted to older adults, New Horizons has been informing and entertaining readers in Omaha and the surrounding area since 1975. With a lively mix of news, advertising, entertainment, features, and travel tips, New Horizons presents a realistic portrait of aging in our society and seeks to dispel the negative myths and stereotypes of growing older.
A tabloid-size newspaper, New Horizons is printed monthly and distributed through direct mail. Circulation is 8,000. While New Horizons is produced by people of all ages, older writers are often featured and encouraged to contribute.
The newspaper is distributed free to anybody age 60 or older in Douglas, Sarpy, Dodge, Cass, and Washington counties. It is available for $5 per year for those under age 60 and for those outside Eastern Nebraska. Donations are also encouraged to offset publication costs.
For additional information, display, or classified advertising rates, click the button below for NH Rate Card or:
 Email: ron.petersen@enoa.org or call Ron at 402-444-6654
 Email: mitch.laudenback@enoa.org or call Mitch at 402-444-4148
Join the New Horizons Club form!