Rural Transportation Program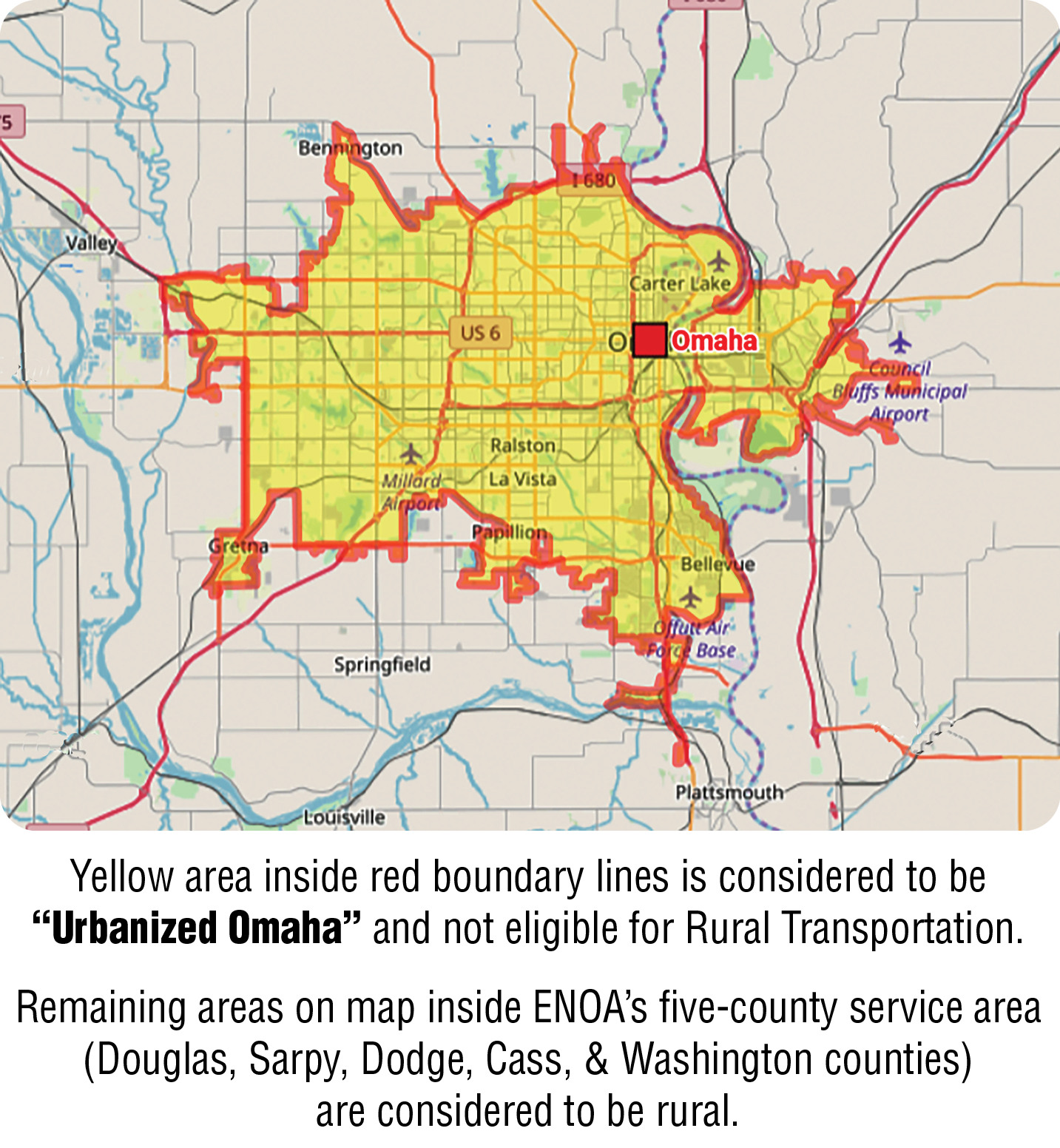 ENOA's grant funding for the Rural Transportation Program is expiring on June 30, 2023.  Provided here is a list of transportation options available in Eastern Nebraska, click on Resources/Transportation.
The Rural transportation program is a demand-response door-to-door system which provides transportation to residents of Cass, Dodge, Washington, rural Douglas and Sarpy counties. This service is available to the elderly, persons with disabilities, and the general public. All vans are handicapped accessible.
This program may be utilized for medical appointments, business appointments, shopping or to the airport. Other requests will be considered based on seating availability.
Individuals wishing to use the transportation system
may call: 1-888-210-1093
If this is a long distance call from your area, you may call collect. A minimum of 48 hours advance notice is required but does not guarantee a ride; you can book a ride as much as 2 months in advance.
Funding for this program mandates that we transport individuals who live in a rural community or are asking for a ride to a rural community. The census defines a rural community as those with the population of under 2,500.
If you are unsure as to whether or not your address or your destination will qualify please give us a call at 1-888-210-1093 and we will be happy to assist you.
Cost
One Way
1-10 Miles..........$3
11-20 Miles........$6
21-40 Miles...... $7
41-60 Miles.......$8
61 Miles+..............$9
For more information call 1-888-210-1093.
Reasonable modifications/accommodations shall be made to ensure accessibility to individuals with disabilities. A Reasonable Modification complaint process and form is available, click on the link below.